Eutectic plates
Ideally suited to maintain the temperature.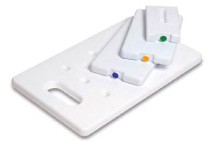 Cold diffuser made with a non-polluting, non-toxic and fully reclyclable chemical component.
Its defrosting rate, lower than water's, enables to keep the temperature for longer.
Freezing system for blood with a Colour Code (different colours depending on the temperature)

Robust plates with reinforced edges, especially designed to avoid any deformation of the blood bags during the freezing process.

Several sizes available.
| | |
| --- | --- |
| Reference | Dimensions (mm) |
| PL 600 | 600 x 400 x 28 |
| GN 1/1 | 530 x 325 x 30 |
| PL 480 | 480 x 280 x 28 |
| GN 1 / 3 | 325 x 176 x 30 |
| GN 1 / 4 | 265 x162 x 30 |
| GN 1 / 9 | 176 x 108 x 30 |
| PL 200 | 200 x 140 x 20 |
| PL 135 | 135 x 68 x 40 |
Große Ahlmühle 27, 76865 Rohrbach, Allemagne - Tél : +49 (0) 63 49 - 92 86 37    Mail : info@strub-group.com
STRUB GmbH - Company certified ISO 9001-13485
All our products are in conformity with CE standards.
Disclaimer