Furniture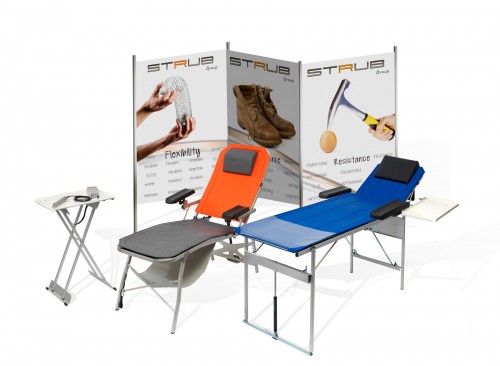 This range of products includes transport, storage and organisation elements, equipments for the mobile collection, the fixed collection and the preparation of blood.
These are the features of our products:
An ergonomic and aesthetic design
Lightness, stability and a safe and easy set up
Anodized aluminium with an inox steel structure that provides a sustainable and resistant fixation
High-quality equipment, non-flammable, 100% washable
A removable upholstery (at least 1cm thick)
A standard version of all products, with optional accessories appropriate to you specifical needs
The GP+ System (Gas Piston) enables an easy and immediate « Trendelenburg » position thanks to the seat inclination (legs higher than the head). The donor can quickly recover, without any effort for the medical staff.
Collecte mobile
collecte fixe
Diverses
Große Ahlmühle 27, 76865 Rohrbach, Allemagne - Tél : +49 (0) 63 49 - 92 86 37    Mail : info@strub-group.com
STRUB GmbH - Company certified ISO 9001-13485
All our products are in conformity with CE standards.
Disclaimer